To use eID with your Doccle account, you must install the Connective Browser package. This consists of an extension for your web browser and a plugin that is installed on your operating system (Windows or macOS only, Linux and ChromeOS are not supported).
In the event that the installation was not (fully) performed or unsuccessful, you will be asked to perform the installation again and again.
Below you will find the most common causes and the corresponding solutions for problems during the installation of the software:
I have to run the software installation over and over again (Windows / all browsers)
The most common cause is that the plugin was not installed completely or incorrectly.
In Windows, go to 'Settings'> 'Apps and features' and check if the Connective Signing Plugins app is present:
If you cannot find the app, you still have to complete the installation of the plugin.
It is important that after downloading the plugin, you also open the downloaded file to start the installation, as shown here (in Google Chrome):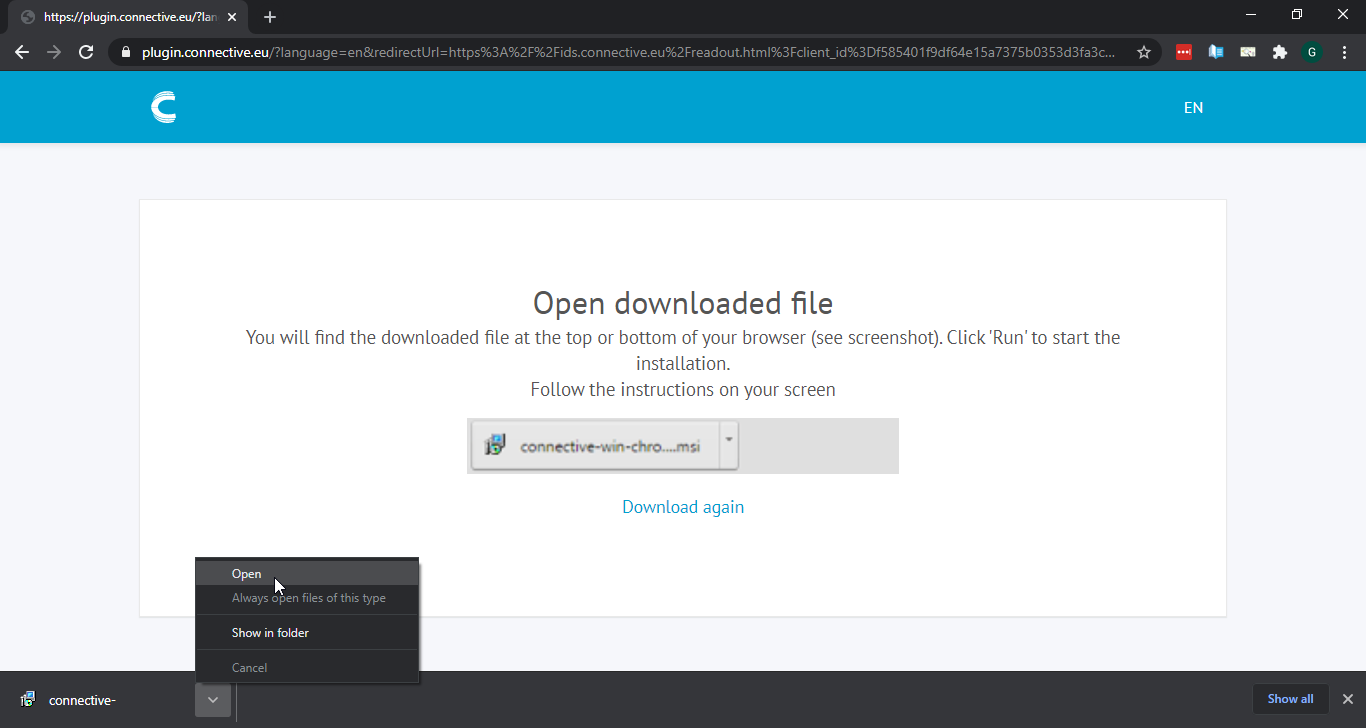 You can also open the file from the location where you downloaded it, for example the "Downloads" folder or your desktop.
The installation fails in the Mozilla Firefox browser
If you use Firefox, you need to activate an extra option when installing the plugin, that ensures that the plugin is also installed for Firefox.
During the installation process this will look as shown here: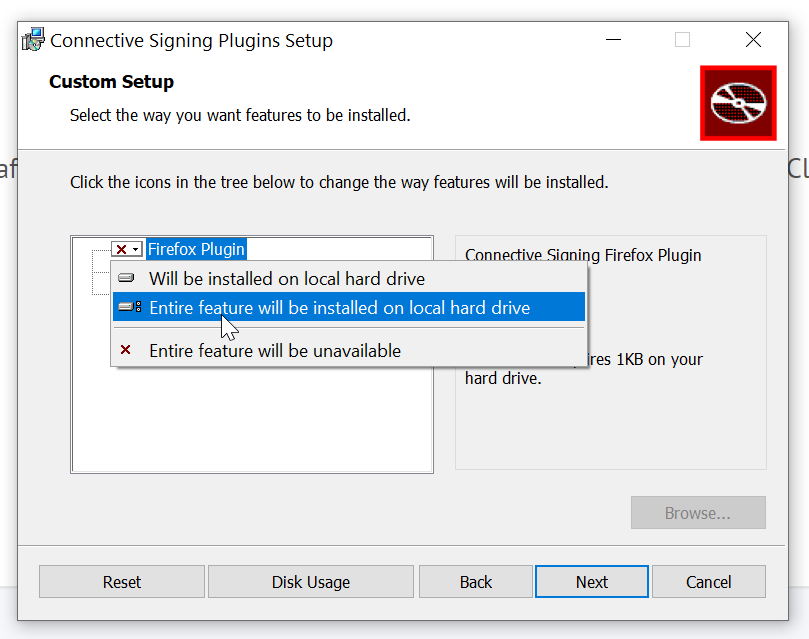 Under Firefox Plugin, select Entire feature will be installed on local hard drive before continuing with the installation process.
If you do not get this step when performing the installation again, first uninstall the plugin and extension (see here) and then run the installation again.
The installation fails in the Microsoft Edge web browser
Since the updated version of Edge (January 2020) based on Chromium (developed by Google), most Chrome extensions also work in Microsoft Edge. However, you must give your permission for this once.
In Edge, this message may appear: "You can now add extensions from the Chrome Web Store to Microsoft Edge", with the button Allow extensions from other stores (see image below).
Only once you have clicked that button can you also make the Connective signing extension work in Edge.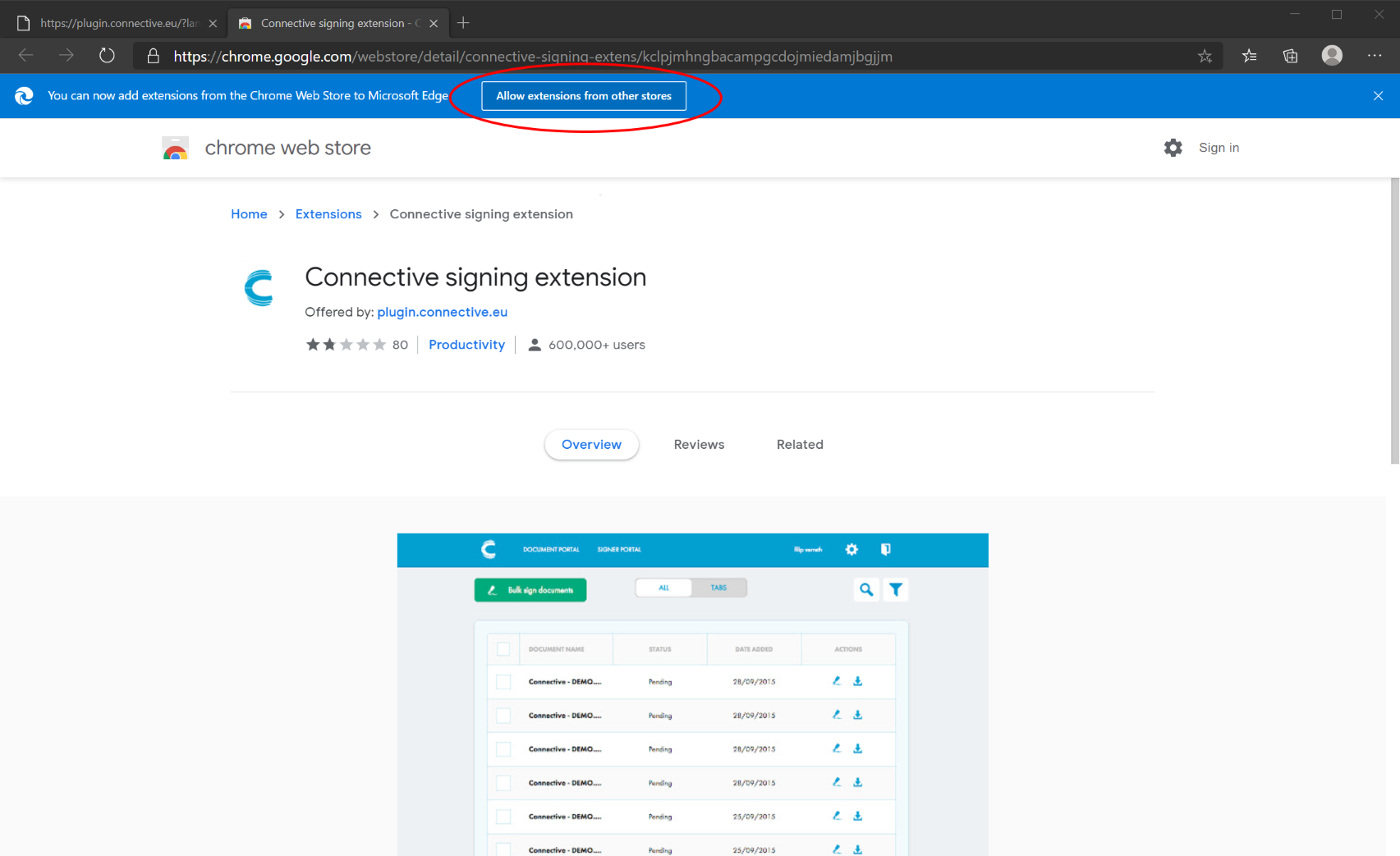 If you don't get this step when trying again, you may need to remove the extension first.