Today we already offer the payment methods Bancontact, Maestro and KBC/CBC with Doccle.
With Bancontact and Maestro you can only make payments directly (as you do for other payments online).
Scheduling a payment for a later date (using a "memo date") is usually done through your banking application. As a customer of KBC/CBC Bank, you can set a payment date yourself with the payment button "Via KBC / CBC".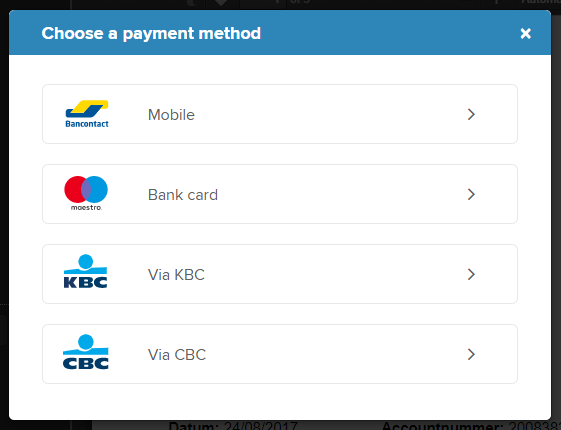 Attention
The KBC/CBC payment button is not yet available in our mobile app. There you can only make direct payments with Bancontact and Maestro.
As a KBC/CBC customer, if you want to pay via the Doccle app, the payment is therefore also made with Bancontact or Maestro and you cannot set a payment date yourself.
What if I do not want to pay immediately via Doccle?
If you leave an document (bill / invoice) unpaid in your Doccle account, you will receive an automatic reminder from us, five days before the due date, by email and / or notification in the mobile app.
In that case you can choose to set the document to "Handle later". It will remain in that status until you have completed the payment for the document via Doccle.
Please note: In order to receive the payment reminder, you must not have archived the document in your account or set it to "Already paid".
Tip
Should you wish to pay using a memo date instead, you can still schedule the payment via your online bank and mark the document as "Already paid" in your Doccle account.